We get very excited about each subsequent litter as we try to make each one better and better.  We always select both the sire and dam very carefully to insure they are individually wonderful examples of the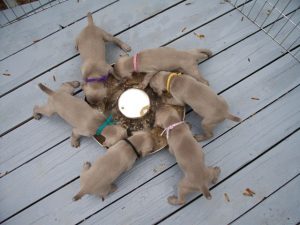 breed standard.  We do several health tests:  HUU, HYM, SD, Heart, Thyroid, Eyes, Hips, and Elbows.  Both will have their American Kennel Club Championships (or will be currently showing in conformation) and both are or were actively shown in an AKC Hunt or Field discipline, having obtained or working towards a Senior Hunt title or higher.  We also strive to obtain AKC titles in the other disciplines such as agility, obedience, scent work, barn hunt, etc.  This requirement of ours insures that the parents will meet or exceed the breed standards and perform to meet or exceed expectations in performance.  Every litter is then fully evaluated to determine which are show puppies and those puppies will go to homes that will actively show in conformation.  Picks are made at 8 weeks.
From day 3 to day 16 of the puppies lives we do Neural Stimulation (Dr. Carmen Battaglia) and Scent Stimulation (Avidog).  We expose the litter to toys, textures, and sounds while still in the whelping box and then start them in their "play pen" at 4 weeks.  We do a lot of things with the puppies that we have learned over the years and have recently added some of the things that Avidog recommends like the Adventure Box.
All puppies are sold with a contract.  If for any reason you are unable to keep one of our puppies, the dog must come back to us and not to a rescue program or other home.  We do not, and will never, sell puppies as breeding stock for new breeding programs.  Don't even ask.
All puppies, other than those sold as show dogs, are sold with a limited registration and a spay/neuter contract.  For the health of the puppy, puppies can not be spayed or neutered until they are mature; which means at least 24 months.  Most puppies that are sold as show dogs come with a co-ownership.
We evaluate for show potential and perform the Volhard Method test on the puppies at 8 and 7 weeks. While we expect nothing but great puppies, some puppies will be more gentle and some more dominant out of any litter.  Puppy evaluations are not a pass/fail, they are simply an indicator of which puppies best suit the new owners and their intended purposes.
We breed regularly - but not constantly.  If we have a litter on the ground or planned and upcoming you may view it by clicking here.