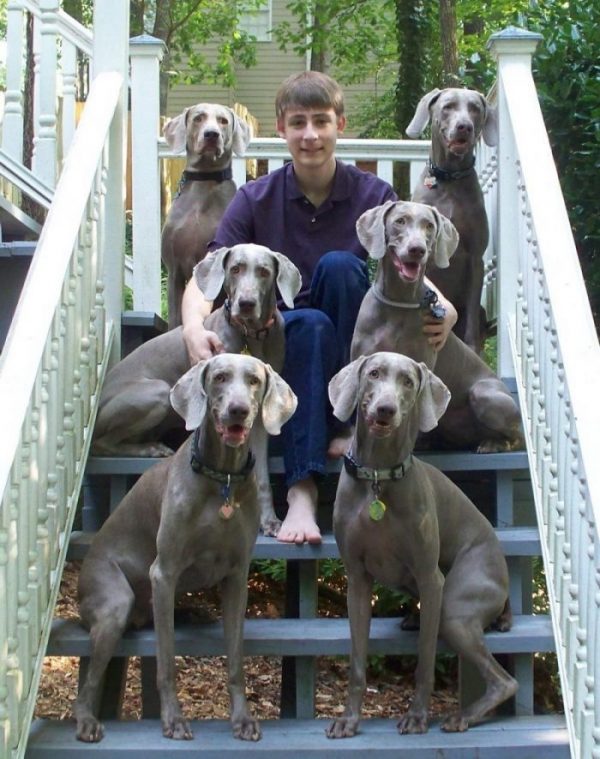 We are the Brower Family: Jeff, Tamara, Nathan, and Matthew.
Tamara has been training dogs since she was 10 years old and has always loved working with dogs.  As she grew up, that love stayed with her and she luckily met a man who enjoyed it just as much as she.
Their two children, Nathan and Matthew inherited the trait and now the whole family is completely in love with the sport of dogs.  Together the family competes in hunt/field, agility, obedience, conformation, rally, barn hunt, scent work, ratings, and tracking.  Nathan and Matthew were both nationally ranked junior handlers in conformation when they were showing as junior handlers.
Since we love the breed so much and wanted to see good quality dogs produced, we started our breeding program.  Before we breed a litter, we look long and hard at the pedigrees of the potential parents, checking for any health issues.  We also work closely with other long time Weimaraner breeders gathering a collective knowledge in evaluating the litters.
If you are considering a Weimaraner, we ask that you do quite a bit of research before you make your decision to get one.  If you decide a Weimaraner is right for you, then we hope you will consider a Gray Matter Weimaraner.  We will work closely with you as a puppy buyer to ensure you have a wonderful pet and if you want, a solid performer.