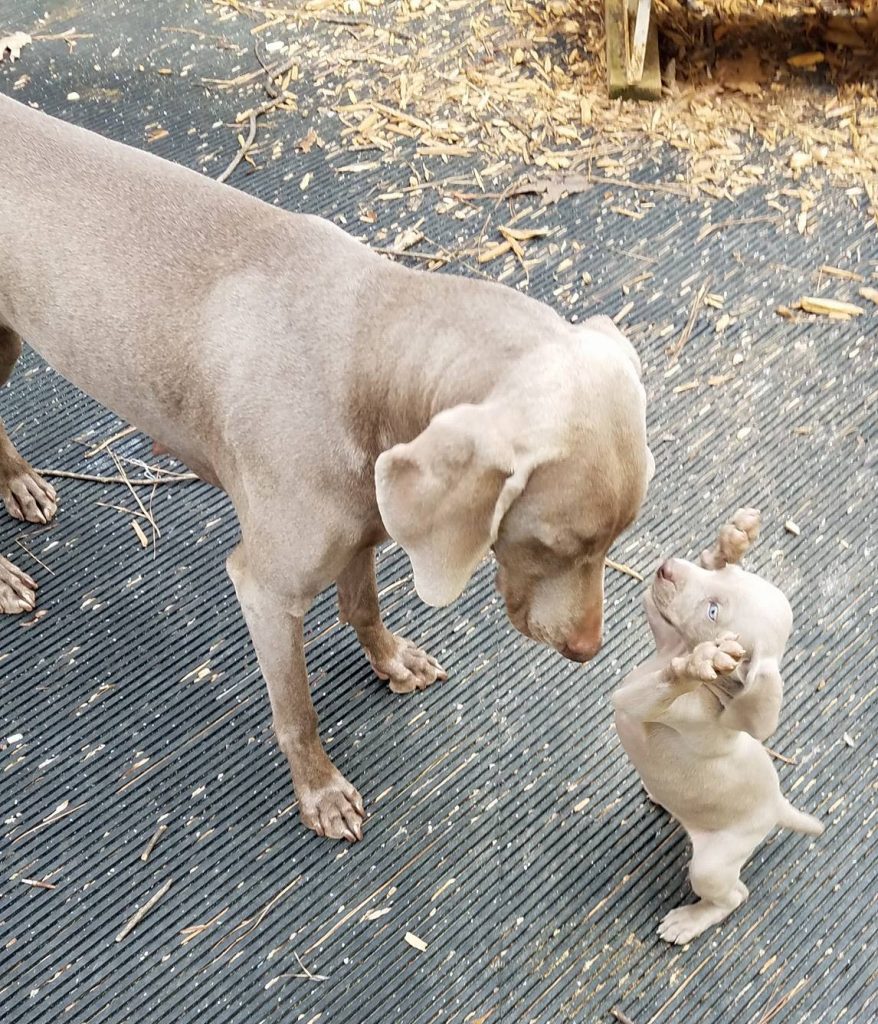 These are our answers to some of the questions below:
We are proud to be members of the Weimaraner Club of America and The Atlanta Kennel Club.  We are on the Board of Directors of the Chattahoochee Weimaraner Club (Jeff is the Vice President and Tamara is the Treasurer).  We adhere firmly to both the AKC and WCA Code of Ethics and Sportsmanship.
We participate in Conformation, Agility, Hunt Tests, Field Trials, Scent Work, Barn Hunt, Tracking, Obedience, Rally, political action and education about the breed.  We thoroughly research our breeding and perform testing on the Sire, the Dam and the puppies which we provide to buyers.  We chose our bitch primarily for her balance, temperament and reflection of the standard.  We choose the dog based upon the things that we would like to see in our line that bring us closer and closer to producing that elusive (nonexistent) perfect litter.  In all breeding we seek to produce a better and better line both for ourselves and our breed.
Our dogs are raised in our home.  Our puppies are whelped and raised in our home.  These are indoor dogs and pampered pups who are raised from day one to be as smart and as versatile as possible.  We teach the puppies from the beginning and build neurons with regularly scheduled activities for the puppies.  We will not sell a puppy to a pet store or the puppy mills that feed them.  We carefully screen applicants to insure that our puppies are not sold to people that will end up not keeping them.  If we find that we have sold a puppy to someone whose circumstances change, we want the puppy returned to us and under no circumstances want our puppies in any kind of shelter or rescue program.
(Excerpts taken from the Chattahoochee Weimaraner Club)
Why did you breed this litter?
Good Anwer: Both the sire and dam have something valuable to offer the breed (this is followed by a list of positive qualities, ie, good temperament, wonderful conformation, great field ability and/or trainability).
Not good answers: To recover the cost of the dog, to allow our children to experience the miracle of birth, our friend had a male.
Are you a member of a Weimaraner Club (national or local)?
Good Answer:  Yes, followed by name of club.
Not good answer: No, clubs put too many restrictions on me as a creative breeder.
Do you have titles on your dogs?
Good Answer:  Yes, something to show that someone other than the owner thinks the bitch and the dog involved in the breeding are worthy.
Not good answer: The puppies are all registered which is good enough.
Do you have the certificate from OFA (Orthopedic Foundation of America)  or PennHip showing that the bitch and the dog are clear from dysplasia?
Good Answer:  Yes, I have the certificate on the bitch and a copy of the certificate on the dog.
Not good answer: No, I know my dogs are fine, I don't need a piece of paper to prove it.
Who is your vet? May we call him/her for a reference?
Good Answer:  Yes, of course.  Here's the number.
Will you take the dog back at any time during his life if, for any reason, we can't keep him/her?
Good Answer:  The ONLY correct answer to this question is "Yes, of course!"
Not good answer: Nah, once they leave here they ain't my problem no more.